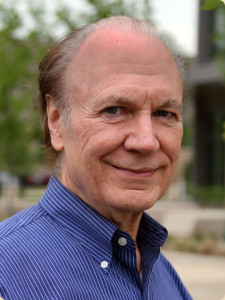 Hello and wel­come to the offi­cial Don Fre­und web­site. As a com­poser Don Fre­und is inter­na­tion­ally rec­og­nized for his works rang­ing from solo, cham­ber, and orches­tral music to pieces involv­ing live per­for­mances with elec­tronic instru­ments, music for dance, as well as large the­ater works. He is also active as a pianist, con­duc­tor, and lec­turer. And as a fes­ti­val coor­di­na­tor, he has pro­grammed over 1,000 new Amer­i­can works. Along with his var­i­ous artis­tic activ­i­ties, Don Fre­und has taught com­po­si­tion for over 40 years and is cur­rently a  pro­fes­sor of com­po­si­tion at the Indi­ana Uni­ver­sity Jacobs School of Music.
RECENT
NEWS
Com­ing Soon!
New CD release: "No Pres­sure to be a Giraffe" will be included on a CD that's com­ing out from the GILLESPIE QUARTET in Chicago. Click here for more info >
UPCOMING
PERFORMANCES
March 14
Mixed Blood per­formed by Ensemble/Concept 21,
Jorge Muñiz, direc­tor, Joshi Con­cert Hall,
IUSB
, South Bend, 
IN
.
March 21
A Mid­dle Quar­tet, per­formed by the Com­mu­nity Music School of Web­ster Uni­ver­sity, St. Louis
March 23
"Giraffe Study", Pay­ton McDon­ald, marimba
William Pater­son U. New Music Series, Shea Audi­to­rium, WPU, Wayne, NJ
March 26
Jug Blues & Fat Pickin', Indi­ana Uni­ver­sity Jacobs School Wind Ensem­ble, Stephen Pratt. con­duct­ing, CBDNA, Scher­mer­horn Sym­phony Cen­ter, Nashville, TN.
March 28
"Giraffe Study", Pay­ton McDon­ald, marimba
William Pater­son Mal­let Per­cus­sion Fes­ti­val, WPU, Wayne, NJ
March 29
New Music Series: Amer­i­can Voices
Mixed Blood, Crunch Time and Hard Cells per­formed by the CIM New Music Ensem­ble, Keith Fitch, direc­tor, Cleve­land Cleve­land Insti­tute of Music, Mixon Hall
FEATURED
VIDEO
Don Freund's "Stir­rings" for solo gui­tar, in a Decem­ber, 2014 stu­dio audio/video record­ing by Stephen Brew. "Stir­rings" is the win­ner of the 1997 Rodrigo Riera Inter­na­tional Gui­tar Com­po­si­tion Competition.
See this video with­out the scrolling score:
http://youtu.be/q9oO5oGNzak
Score pdf:
http://www.donfreund.com/media/scores
My thanks to Stephen Brew for bring­ing Stir­rings back to life with this bril­liant per­for­mance. Thanks also to Alan Thomas who pre­miered (and care­fully edited) this work in 1993. Recital per­for­mance video: http://youtu.be/ucvkW2JS_i8