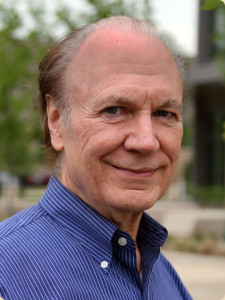 Hello and wel­come to the offi­cial Don Fre­und web­site. As a com­poser Don Fre­und is inter­na­tion­ally rec­og­nized for his works rang­ing from solo, cham­ber, and orches­tral music to pieces involv­ing live per­for­mances with elec­tronic instru­ments, music for dance, as well as large the­ater works. He is also active as a pianist, con­duc­tor, and lec­turer. And as a fes­ti­val coor­di­na­tor, he has pro­grammed over 1,000 new Amer­i­can works. Along with his var­i­ous artis­tic activ­i­ties, Don Fre­und has taught com­po­si­tion for over 40 years and is cur­rently a  pro­fes­sor of com­po­si­tion at the Indi­ana Uni­ver­sity Jacobs School of Music.
RECENT
NEWS
Sat­ur­day, Feb 21
Fac­ulty Com­po­si­tion Recital at the IU Jacobs School includes pre­mieres of Hear­ing in 3V for 3 vio­lins and Songs with Words (lyrics by Steve Pol­lett), as well as Stephen Brew's per­for­mance of Stir­rings for solo gui­tar, and a fac­ulty sin­foni­etta ensem­ble per­form­ing Quilt Hori­zon with video. Auer Hall, Bloom­ing­ton, IN. 8:00 pm, Auer Hall, IU Campus.
Tues­day, Feb 24, 2015
Depart­ing Flights
Remiken Piano Trio
McIn­tyre Music Build­ing Recital Hall, Cen­tral Wash­ing­ton Uni­ver­sity, Ellens­burg, WA
UPCOMING
PERFORMANCES
March 1
Mixed Blood per­formed by Ensemble/Concept 21, Jorge Muñiz, direc­tor, South Bend, IN.
March 7
Earth­dance Con­certo per­formed by the Lawrence Uni­ver­sity Wind Ensem­ble, Nicholas Towns, solo piano, Apple­ton, WI
March 26
Jug Blues & Fat Pickin', Indi­ana Uni­ver­sity Jacobs School Wind Ensem­ble, Stephen Pratt. con­duct­ing, CBDNA, Scher­mer­horn Sym­phony Cen­ter, Nashville, TN.
March 28
Mixed Blood, Crunch Time and Hard Cells per­formed by the CIM New Music Ensem­ble, Keith Fitch, direc­tor, Cleve­land Insti­tute of Music, Cleve­land, OH.
FEATURED
VIDEO
The pre­miere of "Use Your Inside Voice" by the IU New Music Ensem­ble, David Dzubay con­duct­ing, has been posted on YouTube, and there are 3 ways of look­ing at/ lis­ten­ing to it. It's a great per­for­mance with some intrigu­ing video options!
A 5-camera per­for­mance video:
The same per­for­mance video with scrolling score:
Scrolling score only with audio (best audio, from an edited record­ing session):