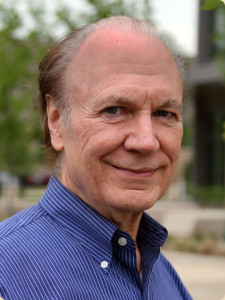 Hello and wel­come to the offi­cial Don Fre­und web­site. As a com­poser Don Fre­und is inter­na­tion­ally rec­og­nized for his works rang­ing from solo, cham­ber, and orches­tral music to pieces involv­ing live per­for­mances with elec­tronic instru­ments, music for dance, as well as large the­ater works. He is also active as a pianist, con­duc­tor, and lec­turer. And as a fes­ti­val coor­di­na­tor, he has pro­grammed over 1,000 new Amer­i­can works. Along with his var­i­ous artis­tic activ­i­ties, Don Fre­und has taught com­po­si­tion for over 40 years and is cur­rently a  pro­fes­sor of com­po­si­tion at the Indi­ana Uni­ver­sity Jacobs School of Music.
NEWS
July 18, 6pm Auer Hall
String Acad­emy Final Con­cert
Pre­miere of "Ground­work" for Open String Orchestra
July 13, 4pm Auer Hall
Fes­ti­val Cham­ber Play­ers: 30th Anniver­sary Con­cert for Sum­mer String Acad­emy. Pre­miere of Com­mis­sioned work "Hear­ing in 3V," for three violins.

Memo­r­ial Union, State Room East
More than any other art form, music exists only in the per­cep­tion of the beholder. The mean­ing and emo­tional power of any musi­cal expe­ri­ence is com­pletely depen­dent on the listener's abil­ity to rec­og­nize and remem­ber details of sound events, and iden­tify rela­tion­ships and pre­dict (rightly or wrongly) how these events play out as a piece of music pro­gresses. Using exam­ples from the music of Bach and Beethoven and my own music, we'll exam­ine how com­posers make use of the many resources found in the var­i­ous dimen­sions of music to invite the engage­ment needed for music to exist in its most impor­tant dimen­sion: the mind of the listener.
Fea­tured Video:
I am delighted to announce the YouTube post­ings of two ver­sions of my song cycle Med­i­cine Wheel. Med­i­cine Wheel is a set­ting of five poems by Emily Bobo, poems writ­ten in response to the sound of the Native Amer­i­can Flute as played by James Pel­lerite. Three songs from an audio record­ing of Pellerite's per­for­mance along with the two singers for whom the work was com­posed, Arwen Myers and Laura Thore­son, can be heard here, with scrolling score:
https://www.youtube.com/watch?v=K0HLiA2-thw&feature=youtu.be
A video of the live per­for­mance of the com­plete cycle given by Eva Legêne play­ing native flute with Lind­sey McLel­lan and Amanda Russo from my March Auer Hall recital can be seen and heard here: