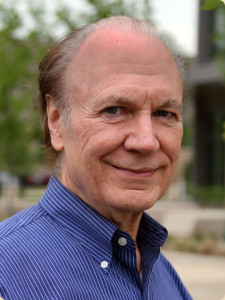 Hello and welcome to the official Don Freund website. As a composer Don Freund is internationally recognized for his works ranging from solo, chamber, and orchestral music to pieces involving live performances with electronic instruments, music for dance, as well as large theater works. He is also active as a pianist, conductor, and lecturer. And as a festival coordinator, he has programmed over 1,000 new American works. Along with his various artistic activities, Don Freund has taught composition for over 40 years and is currently a  professor of composition at the Indiana University Jacobs School of Music.
RECENT NEWS
Balcony and Ballroom Scenes from Romeo and Juliet, orchestrated for the IU New Music Ensemble (2016). Video from streamed performance. Audio recording with supertitles.
NEW SCROLLING SCORE VIDEOS:
Preludes for Orchestra, performed by the IU Summer Philharmonic, conducted by Thomas Wilkins. Performance and scrolling score.

Quilt Horizon for 17 players. Performance and scrolling score.
Unwinding the Wind (2016) for Native Flute. Scrolling score video
Triomusic (1980) for violin, clarinet and piano. Scrolling score video
Bach WTC2:9-12, Freund, piano, color-coded score video, Bach lessons playlist
Don Freund's Faculty Composition Recital, Saturday, March 26, 2016, 8 pm, Auer Hall, I.U. Jacobs School of Music: all recordings (and links to scores) here!
On February 7, Freund's "Discubuit Jesus" was premiered by the IU Jacobs School Historical Performance Institute. The piece brings together all the instruments and performers and style periods of the HPI to celebrate the donation of a medieval manuscript to the Lilly Library. Since the work doesn't fit any standard description it has its own page on this website!

NEW CD RELEASE: James Pellerite's Native American Flute CD "Mystic Voices Soaring" on Albany Records begins with Freund's "Medicine Wheel." Pellerite is joined by singers Arwen Myers and Laura Thoreson to perform Don's settings of 5 poems by Bloomington poet Emily Bobo. Peter Jacobi's review finished with this summation:"Bobo's words — focused on animals that represent traits of character (such as a wolf as teacher, a buffalo as contrarian, a swan as grace, a whale as record keeper, and mouse as detailer) — and Freund's remarkably agile and haunting music fuse into a package that Pellerite then exploits in performance." Three of these songs can be heard (and seen in scrolling score) on YouTube.
TWO NEW VIDEOS: Don Freund had the honor of being asked to write the commissioned work for the celebration of Eugene Rousseau's Retirement Celebration at the University of Minnesota. Soprano saxophonist Julia Nolan and Freund premiered the piece Random Acts of Kindness (scrolling score video of the premiere) on the final concert (Oct.3, 2015) before an international gathering of dozens of Rousseau's students from years of teaching — some of the finest saxophonists in the world today. Earlier that day Freund joined alto saxophonist Kyle Hutchins for his stunning performance of Freund's Sky Scrapings. (Video of that performance)
Last November (2015) Don Freund was the featured festival composer-in-residence at the Florida Contemporary Music Festival and The School of Music at The University of Florida's hosting of the Society of Composers, Inc. 50th Anniversary National Conference. On the program was performances of his Fanfare of Celebration and Commemoration for six trumpets, Jug Blues & Fat Pickin' (Symphonic Band), O Fortuna (Women's Chorus), Jubilate Deo (chorus and organ), Hard Cells (U of Fl Symphony Orchestra) and Freund performed on the synth in Passages for alto saxophone, horn and Casio CZ100.