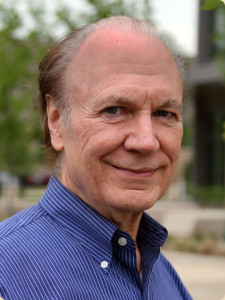 Hello and wel­come to the offi­cial Don Fre­und web­site. As a com­poser Don Fre­und is inter­na­tion­ally rec­og­nized for his works rang­ing from solo, cham­ber, and orches­tral music to pieces involv­ing live per­for­mances with elec­tronic instru­ments, music for dance, as well as large the­ater works. He is also active as a pianist, con­duc­tor, and lec­turer. And as a fes­ti­val coor­di­na­tor, he has pro­grammed over 1,000 new Amer­i­can works. Along with his var­i­ous artis­tic activ­i­ties, Don Fre­und has taught com­po­si­tion for over 40 years and is cur­rently a  pro­fes­sor of com­po­si­tion at the Indi­ana Uni­ver­sity Jacobs School of Music.
RECENT
NEWS
The Sum­mit Brass recently pre­sented the pro­fes­sional pre­miere of Don Freund's brass ensem­ble work After­tunes (…the fol­low­ing episodes) on their 30th Anniver­sary Con­cert July 18 in Gates Con­cert Hall in Denver.
Don Fre­und had the honor of being asked to write the com­mis­sioned work for the cel­e­bra­tion of Eugene Rousseau's Retire­ment Cel­e­bra­tion at the Uni­ver­sity of Min­nesota. Soprano sax­o­phon­ist Julia Nolan and Fre­und pre­miered the piece Ran­dom Acts of Kind­ness on the final con­cert (Oct.3) before an inter­na­tional gath­er­ing of dozens of Rousseau's stu­dents from years of teach­ing — some of the finest sax­o­phon­ists in the world today. Ear­lier that day Fre­und joined alto sax­o­phon­ist Kyle Hutchins for his stun­ning per­for­mance of Freund's Sky Scrap­ings.
This Novem­ber 12–14 Don Fre­und will be the fea­tured fes­ti­val composer-in-residence at the Florida Con­tem­po­rary Music Fes­ti­val and The School of Music at The Uni­ver­sity of Florida's host­ing of the Soci­ety of Com­posers, Inc. 50th Anniver­sary National Con­fer­ence. On the pro­gram will be per­for­mances of his Fan­fare of Cel­e­bra­tion and Com­mem­o­ra­tion for six trum­pets, Jug Blues & Fat Pickin' (Sym­phonic Band), O For­tuna (Women's Cho­rus), Jubi­late Deo (cho­rus and organ), Hard Cells (U of Fl Sym­phony Orches­tra) and Fre­und will per­form on the synth in Pas­sages for alto sax­o­phone, horn and Casio CZ100.