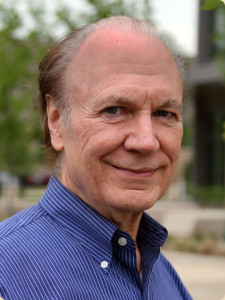 Hello and wel­come to the offi­cial Don Fre­und web­site. As a com­poser Don Fre­und is inter­na­tion­ally rec­og­nized for his works rang­ing from solo, cham­ber, and orches­tral music to pieces involv­ing live per­for­mances with elec­tronic instru­ments, music for dance, as well as large the­ater works. He is also active as a pianist, con­duc­tor, and lec­turer. And as a fes­ti­val coor­di­na­tor, he has pro­grammed over 1,000 new Amer­i­can works. Along with his var­i­ous artis­tic activ­i­ties, Don Fre­und has taught com­po­si­tion for over 40 years and is cur­rently a  pro­fes­sor of com­po­si­tion at the Indi­ana Uni­ver­sity Jacobs School of Music.
NEWS
July 18, 6pm Auer Hall
String Acad­emy Final Con­cert
Pre­miere of "Ground­work" for Open String Orchestra
July 13, 4pm Auer Hall
Fes­ti­val Cham­ber Play­ers: 30th Anniver­sary Con­cert for Sum­mer String Acad­emy. Pre­miere of Com­mis­sioned work "Hear­ing in 3V," for three violins.
Fea­tured Video:
I know you'll enjoy watch­ing Dan Welcher ignit­ing his crack­er­jack U Texas New Music Ensem­ble as the score scrolls by in a per­for­mance of my "Hell's Hand­bas­ket" from last February.