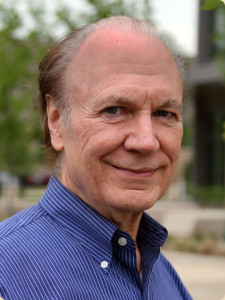 Hello and wel­come to the offi­cial Don Fre­und web­site. As a com­poser Don Fre­und is inter­na­tion­ally rec­og­nized for his works rang­ing from solo, cham­ber, and orches­tral music to pieces involv­ing live per­for­mances with elec­tronic instru­ments, music for dance, as well as large the­ater works. He is also active as a pianist, con­duc­tor, and lec­turer. And as a fes­ti­val coor­di­na­tor, he has pro­grammed over 1,000 new Amer­i­can works. Along with his var­i­ous artis­tic activ­i­ties, Don Fre­und has taught com­po­si­tion for over 40 years and is cur­rently a  pro­fes­sor of com­po­si­tion at the Indi­ana Uni­ver­sity Jacobs School of Music.
RECENT
NEWS
Com­ing Soon!
New CD release: "No Pres­sure to be a Giraffe" will be included on a CD that's com­ing out from the GILLESPIE QUARTET in Chicago. Click here for more info >
RECENT
PERFORMANCES
March 28
"Giraffe Study", Pay­ton McDon­ald, marimba
William Pater­son Mal­let Per­cus­sion Fes­ti­val, WPU, Wayne, NJ
March 29
New Music Series: Amer­i­can Voices
Mixed Blood, Crunch Time and Hard Cells per­formed by the CIM New Music Ensem­ble, Keith Fitch, direc­tor, Cleve­land Cleve­land Insti­tute of Music, Mixon Hall
FEATURED
VIDEO
A per­for­mance with scrolling score video of the pre­miere of "Hear­ing in 3V" for three vio­lins is now on YouTube. A ter­rific per­for­mance from three vir­tu­osi from Mimi Zweig's IU String Acad­emy: Rose Brown and violinist/composers Nid­hal Jebali and Amy Lidell.